No 2 Squadron RFC 1915 continued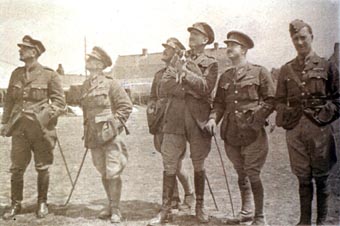 No. 2 Sqn RFC officers July 1915
Hesdigneul, France
L to r:Capt. Heaton-Hall, Lt. Clarke, Capt.s Cooper, Secker, Smith and Heathcote
(Clarke and Heathcote had both crashed their aircraft in the transfer to Hesdigneul, seemingly to no great ill affect!)
--------------------------------------------------------------
Jul 10th Sat:
I, with Lt. Sweet, did the Army Reconnaissance to Tournai, Valenciennes, Cambrai, Douai, finished at 11,500 ft. - not fired at, crossed lines above clouds which disappeared as we approached Tournai. Time 2 hrs 50 mins. Carried 1 machine gun (Lewis) and three chargers of ammunition.
Jul 15th Thurs:
With Lt. Roberts patrolled lines from 6.0 to 8.20 -pm looking for flashes of German guns. We sighted a German aeroplane over our lines but could not catch it.
Jul 16th Fri:
German aeroplane came over aerodrome at 9.30 am. I ascended with Capt.Milne. We reached 7,000 ft. enemy machine was still above us & made off towards Douai. Learn that in future No.2 Sqn is to do the Army reconnaissance instead of No.16 Sqn. I dined in Bethune with Capts Collins and Milne.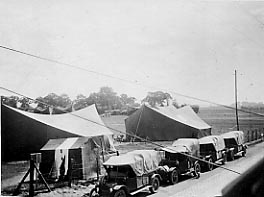 Airfield at Hesdigneul
Jul 17th Sat:
Weather very rough & cloudy - no flying. I dined at 'A' Flight mess, Maj. Wynn of 11th Royal Scots who are billeted in village was also there.
Jul 18th Sun:
German aeroplane came over at 7.30 am. - ascended with Lt. Wallace, lost sight of enemy while going through clouds & did not see him again. In evening at 6.30 went over Bethune Electric Power station with Capt. Heathcote. Returned at 7.30 to find a Zep. reported, being 'duty pilot', I went up & remained aloft for 40 mins reaching 7,000 ft but saw no signs of the Zep.
Jul 19th Mon:
Did 1st Army Reconnaissance - Douai, Cambrai, Valenciennes,Tournai, Orchies & Lille. Started 5.0 am returned 7.55 am Lt. Sweet observer. There were two machines on Douai aerodrome evidently ready to ascend. We saw nothing of any enemy aeroplanes until over Lille on the way home, when one appeared some distance off but did not come near. Crossed the trenches at 10,000 ft, finished at 11,500 ft. Were fired at when crossing & at Douai. Only 15 mins petrol left on landing. My machine is now being overhauled, engine taken down & new planes fitted.
This morning Bethune was shelled in the vicinity of the station. Lt. R. Loraine had tea in Bethune and afterwards walked round to see the damage caused by shell fire. Several houses were demolished & many injured. The British replied this evening by shelling La Bassée with 9.2 howitzers.

Note: Robert "Bobbie" Loraine was known by the press as the actor-airman. He was awarded the DSO and MC. He later became a flight commander with No 5 Squadron and went on to command Nos 40 & 211 Squadrons. After the war he returned to the stage.

Photo: 2 Sqn wireless station
Jul 20th Tues:
Did short recce in evening on Lt. Loraine's machine, Lt. Marshall observer.
| | |
| --- | --- |
| Lt.s Marshall and Loraine | Capt. Hearson (pilot, rear seat) and Lt. Davis (observer) on a BE 2C |
Jul 21st Wed:
Capt. Collins did army recce & was attacked by large German biplane with twin engines. It retired on being fired at with machine gun. Capt. Hearson was attacked by an Aviatich while taking photographs in the evening.
Jul 22nd Thurs:
Did army Reconnaissance, very strong west wind. After turning towards home from Tournai we met thick banks of cloud, progress was very slow. We flew for 45 mins above clouds steering by compass only. I descended to 5500 ft. out of the clouds to note our position. We were above Wingles and were immediately fired at. Returned into clouds for ten minutes. Came down again, were just East of the Bois de Biez, again fired at, a piece of shell passing through engine cowl. Eventually came out of clouds above Estaires and landed at Merville after being in the air for 3 1/2 hrs & taking 1 1/2 hrs from Tournai. Observer Lt. Sweet.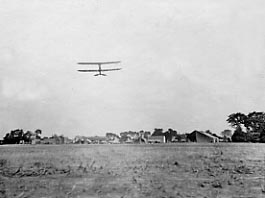 BE2 taking off from Hesdigneul
Jul 25th Sun:
Did Army Recce: - time 2.30 pm. Clouds over Tournai. Passed over Lille going out, were not fired at. Returned over Lens at 11,400 ft. - about 20 shells fired at us - all short. Returned 5.15 pm.
Capt. Hearson was attacked by 3 enemy aeroplanes while taking photographs over Seclin. Capt. Secker, the observer, drove them off with machine gun. Four machines are going out to-morrow to same place while photographs are taken.
Jul 28th Wed:
Bad weather for last three days.
Jul 29th Thurs:
In company with Hearson on 1710 went to Seclin to take photographs: observer Lt. Davis. Started 7.0 am. arrived over the lines 8.0 am. On nearing Seclin four German machines came in sight, slightly below us - we were at 10,000 ft. The leading machine attacked Hearson, as we came up it turned in our direction & we opened fire at about 100 yds. After a time it dived sharply & disappeared in the direction of Lille aerodrome. Hearson was attacked by two other enemy machines, separately both of which he drove down. We then proceeded to take photographs. During the whole time we were subjected to a heavy shell fire, especially on our return. The big end bearing of my machine gave out about two miles on the enemy's side of the trenches. I throttled down running the engine at 1400 revs and by making use of my height -10,000 ft arrived back at the aerodrome. The photo's were very good & the report on them stated that they were, as far as distinctness and detail were concerned, the best yet taken out here. Copies were sent to the C-in-C. The places photographed were the enemy's defences in V square to the North & N.E of Seclin.
Captain Hearson, Flight Commander, C Flight, No. 2 Sqn RFC

Extract from ROYAL FLYING CORPS 1915 Communiqué No 2

On the 29th July, Capt. Smith and Lt. Davis, 2 Sqn, on a B.E.2C when on a photographic reconnaissance observed Capt. Hearson engaged with a Fokker over Seclin. Capt. Smith attacked the monoplane which dived and was lost to view. Capt. Hearson and Lt. Marshall on a B.E.2C on July 29th attacked a Fokker armed with a machine-gun, over Seclin. The German was driven off, Capt. Smith joining in the pursuit. During this reconnaissance (photographic) two other Fokker monoplanes were attacked and driven down by Capt. Hearson.
Editors notes:
Note 1: The RFC communiqués were known as the "comic cuts" after a popular childrens magazine. This extract allows a direct comparison between a pilot's account and the communiqué.
Note 2: By mid July 1915 the German Air Force had 11 Fokker Eindeckers in front line service, initially to protect their reconnaissance aircraft. On 1 July 1915 Lt. Wintgens of Feldflieger Abteilung 67 became the first pilot to shoot down an enemy aircraft in an Eindecker.
_________________________________
Jul 30th Fri:
Spent in fitting new engine to my aeroplane. No flying.