No 2 Squadron RFC 1915 continued
May 11th Tues:
Not having heard how long my leave was to last I returned to London & reported at War Office, saw Maj. Warner, was instructed to go to Farnboro' next day & take an RE aeroplane to France.
May 12th Wed:
Arrived Farnboro', took over RE (2485). weather bad.
May 13th Thurs:
Weather still too bad to fly.
May 14th Fri:
Clouds higher decided to go as far as Folkestone, on arriving there found weather in channel better, could see French coast, so continued journey, arriving St Omer, in 1 hr 50 mins after leaving Farnboro'. Met Lt. Gosage who had also arrived this day on a new BE.2c. We shared a room for the night at the Hotel de France.
May 15th Sat:
Am attached to No 7 Sqn and billeted in the villa Maurice - C Flight consisting of Capt. O'Gowan, Lts Lirick & Meakin and Self.
May 21 st Fri:
Have been a week with No 7 but have not flown, either weather has been too bad, or no machine available. Now receive instruction to rejoin No 2 Sqn.
May 22nd Sat:
Have rejoined No 2 at Merville, posted to 'C' Flight -machine BE2c 1659. There are a number of changes since I was last here - Lt. Moorhouse has been killed, Lt. Jackson wounded, Capt. Freeman sick. Capt. Dawes is 'C' Flight Commander - a very good fellow.
Editors note: Lt. Rhodes-Moorhouse was the first man to be awarded a VC for action in the air. He died of wounds having returned from a bombing mission on 26 April 1915 over Courtrai, Belgium.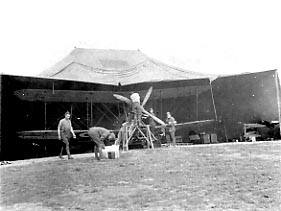 BE2C 1659 under cover at Merville
May 24th Mon:
My first attempt at bomb dropping - 3 on a chateau at Fromeiles, 3 on Le Maisnil. The weather is much better than when I was here before & life is more comfortable. We bathe in the canal at bottom of aerodrome most evenings.
May 28th Fri:
My machine being fitted with a new bomb sight I attempt to drop three bombs on La Bassée station - none of them hit their mark tho' one is very near.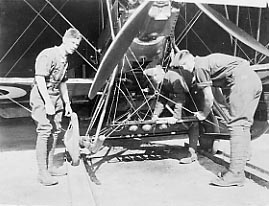 20lb Hales Bombs loaded on BE2C 1659
Jun 1st Tues:
Maj. Webb-Bowen who has commanded No 2 since I first joined it, leaves for England and the command is taken over by Maj. Becke. [J H W Becke, later Brigadier]
Jun 12th Sat:
I dropped three bombs for practise from 7,000 ft., aimed at farmhouse behind the Bois de Biez, first 50 yds short, second 20 yds left, third about 4 yds short, front of house destroyed.
Jun 13th Sun:
I aimed a 100 lb bomb at the canal bridge in Don at 7.30 pm - missed & fell in a garden - no damage.
Jun 14th Mon:
Aimed a 100 lb bomb at Don railway station at 8.55 am. missed and fell in field - no damage.
On both above raids I was hotly fired at by enemy anti-aircraft guns both going & on return journey. On the latter there was an anti-aircraft gun on a truck in Don station. The crankcase of my engine was hit by shrapnel - no serious damage.
Jun 20th Sun:
Capt. Leighton, F.C. of 'C' Flight, went home to-day on leave. I have temporary command of 'C' flight in his absence and use of his machine 100 hp RAF engine.
Jun 30th Wed:
Squadron moved from Merville to Hesdigneul. I left Merville at 10.30, was caught in violent storm & obliged to return.
Made journey later, arriving 12.00 noon. Am billeted in main street about 200 yds from aerodrome. Comfortable room & clean. Aerodrome is on the small side, Lt. Clarke crashed coming in, Capt. Heathcote had forced landing on the way & crashed.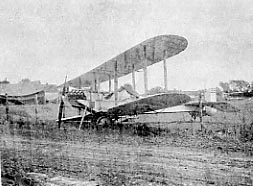 "Lt. Clarke's machine newly arrived at Hesdigneul!"
No. 2 Sqn Hesdigneul, France
Jul 5th Mon:
I took eight photographs of enemy's trenches between Festubert and Lens with camera attached to side of my machine -all good.
Maj. Becke informed me that he had recommended me for promotion to rank of F.C. [Flight Commander] - it was likely to take place in about a month's time.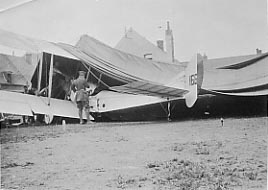 Captioned: "Capt. Carthew DSO thinks what he would have said if anyone else had done it!"
Jul 6th Tues:
Capt. Leighton leaves for England. Capt. Hearson becomes 'C' Flight F.C. I take over Capt. L's aeroplane with RAF engine.