No 2 Squadron RFC 1915 continued
Flying Corps HQ St Omer
Aug 16th Mon:
Receive instructions to report at F.C. H.Q. St Omer at once. Col. Trenchard arrives before I leave and informs me that I am to take charge of the 'school' at St Omer for a few days and after that unless a vacancy occurs in the meantime I shall join a home squadron as Flight Commander.
I reported at HQ at 7.0 pm. Am billeted at 'Aircraft Park' billet. Others there:- Maj. Reynolds, Capt.s Gould, Smithers and Lt. Gold. I have for the purpose of instruction two BE 2b's & one Martinsyde machine.
Editors note: Capt. Smith had completed 101 hours flying with No. 2 Sqn.
Airfield at FCHQ St Omer August 1915
Photo shows 3 aircraft (?Caudron left & 2 BE2s) and lines of Leyland lorries in front of the hangars.
_________________________________
Aug 17th Tues:
Having no pupils ( I passed out the remaining two before breakfast this morning) I took Capt. Smithers to Boulogne & back this afternoon to test a new long distance wireless set.
Aug 18th Wed:
Took Capt. Smithers to Le Crotoy to test wireless set. We struck the coast just North of Boulogne & followed it down, while passing Le Touquet we came down to 800 ft. & watched people bathing on the beach. Had lunch at Le Crotroy started back at 2.30.
Aug 19th Thurs:
Four new officers having arrived from England yesterday I have morning and evening flying. Officers Lt.s Johnson and Sabot.
Above: Martinsyde Scout, St Omer

Left: Lt. Johnson [Lt. Harold Richard Johnson went on to 3 Sqn where he was killed in a flying accident on 19 Jan 1916. Earlier that day he had flown James McCudden as his observer and the day's events are recorded in the latters' book. He is buried at Lapugnoy Military Cemetery]
Aug 21st Sat:
Receive instructions to proceed to England to-morrow. Ask for and obtain permission to fly over on a new Caudron aeroplane which is to be delivered at Farnboro'.
Aug 22nd Sun:
Took out Caudron before breakfast to try. Reached about 300 ft. allowed machine to stall, side slipped & nose dived completely smashing the machine. I, not being strapped in, was thrown from my seat half way through the top plane but was not hurt.
I proceeded to Calais by car in company with Col. Maundon & crossed to Folkestone. An enemy submarine had been sighted in the channel the day before & a boat sunk by mines so great precautions were taken and we did not leave Calais harbour until dark -7.30.
Arrived London 1.00 am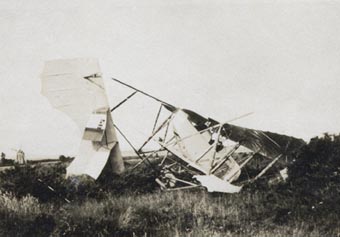 French built Caudron GIII crashed by Capt. Smith at St Omer, 22 August 1915. (Note the windmill bottom left of photo.)
Aug 23rd Mon:
Reported at War Office, was given 7 days leave.