No 27 Squadron RFC, 1916
This section records Capt. Smith's time with No 27 Squadron at Dover and then Treizennes and Hesdin in France.
No. 27 Squadron had begun to form in November 1915 and was commanded from January 1916 by Major A E Borton. The Squadron was brought to full strength in February receiving its Martinsyde G100's early that month. No. 27 deployed to France with eleven aircraft on 1 March flying first to St Omer then to Aire (Treizennes). No. 27 Squadron was the first to deploy to France with the Martinsyde "Elephant" G100 (single-seat fighting scout); aircraft mentioned here are from the original production order serial no.s 7258-7307. It was the only Squadron fully equipped with Martinsydes. The Martinsyde was large and unwieldy - hence one explanation for the nickname "elephant". Originally designated as a fighting scout it proved unsuitable in this role and from 1 July 1916 it was used predominantly for bombing duties.
Capt. Smith joined No 27 Squadron at Dover on 5 February 1916 as a Flight Commander. His fellow Flight Commanders were Major Sidney Smith and Capt. Cairns both of whom were newly qualified pilots having already served as Observers. Sidney Smith had a reputation for heavy landings and was dubbed "Crasher" by his CO.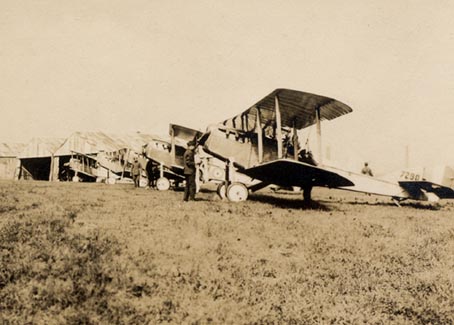 No 27 Squadron Martinsyde Elephants (Serial 7290 in foreground) 1916
The initial work of the squadron was patrolling the First Army front between Armentieres to Souchez. Later the squadron undertook some reconnaissance work and conducted successful experiments in high altitude photography at 14,500 ft rather than the usual 6-8,000 ft. From July 1916 the squadron was re-roled to bombing duties.
The following is based on extracts from Capt. Smith's log book together with references to RFC communiqués.
PILOTS LOG BOOK EXTRACTS 1916
Treziennes, France
Format: Date Aircraft Flight Time
March 9 (Martinsyde 7269) 1 hr
Comment: "Patrol after 6 Huns which bombed steel works"
March 11 and 15 testing machine guns
Editors note: Second half of March regular patrols of 1 1/2 to 2 1/2 hours daily
April 2 (7269) 2 hrs 55 min (flight) 12,500 ft
Comment: "Patrol, Fired at Hun machine directing artillery over Lens"
April 16 undertook reconnaissance patrols. Photographed Marquilles
April 21 (7269) 3 hrs 5 min 11,500 ft
Comment: " Patrol, Met two huns West of Souchez, fired 1 ½ drums, main spar and two fuselage struts pierced, landing wire shot away."
April 26 (7269) on patrol records climbing to 12,000 feet in 24 minutes and flying at 78 mph at that level.
Editors note: Late April daily patrols, typically 2 1/2 hours each, he records a number of engine problems and regular 15 minute test flights before patrols. Using aircraft 7274 as well as 7269 (which was experiencing engine problems)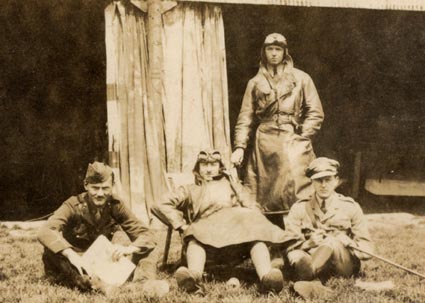 Capt. Smith centre (possibly with Joy, Taylor and Basden)