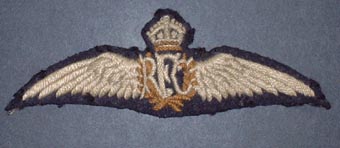 A pilots' war
1915-1918
Commanding 62 Squadron RFC/RAF 1918
Major Smith took command of 62 Squadron in October 1917 at Rencombe near Cirencester as it prepared for mobilisation for France.
His immediate task was to oversee the build up of the squadron to full strength and the conduct of the training programme, and to satisfy himself that the standards required were being met. On mobilisation the squadron would have had an establishment of approximately 40 (later 48) aircrew including pilots and observers (gunners), and supporting staff including the Recording Officer, Equipment officer and Armaments Officer, 43 NCOs and 119 Airmen - approximately 215 in total. The fighting units of the squadron were three flights of six (later eight) aircraft commanded on offensive patrols by their Flight Commanders. The Squadron transport establishment included 1 car, 5 light tenders, 7 heavy tenders, 2 repair lorries, 8 motorcycles and 8 trailers
A central feature of preparing for mobilisation was gunnery training and Wing HQ issued various instructions related to training and safety. Gunnery in the surrounds of the airfields was becoming a hazard to visiting aircraft and measures had to be taken to warn of practice in progress - a white diamond shape was laid out on the airfield to indicate firing underway. There were also clear instructions not to obstruct farming activities and to ensure the farmers were kept fully informed of live firing training! Squadron aircrews underwent a series of accuracy tests and were scored for their proficiency. The Squadron moved to France in January 1918.
| | |
| --- | --- |
| Major Smith in his "office" in the field under canvas, probably at Planques, summer 1918. To the side of his desk is a wall board listing squadron personnel. On a stand to the right of the board is a telephone - which by its awkward position suggests that calls were infrequent! | |
As CO his primary concerns would have related to operational efficiency and maintaining morale. In the field (literally, much of the time not on established aerodromes) the CO was responsible for planning squadron activities: deployments, moves of airfields and the rostering of crews for operational flying. It was his task to satisfy himself as to the performance of individuals, and to reorganise the flights as the squadron took casualties.
There was a significant amount of administration involved in personnel management, organising flying in response to Wing orders or training needs, reviewing flying/combat reports, filing daily reports to Wing HQ, recommending promotions and awards, taking on new officers, and writing to relatives of the dead and missing. He was assisted in this activity by his Recording Officer (Lt. Bramwell-Davies).

Left: Lt. R V Bramwell-Davies
Major Smith undertook some test flying, some flights with new officers, and an occasional offensive patrol, he also ferried aircraft to new airfields during the German March offensive. COs were not normally allowed to fly over enemy lines without HQ permission, so would limit their flying to assessing the weather conditions, reviewing new pilots and perhaps some test flying of aircraft.
The squadron commander was required to submit daily reports to Wing HQ on all flying activity, listing aircrews, aircraft by serial number, time in the air, nature of flight e.g. test, offensive patrol etc and aircraft availability. Combat reports were also forwarded to Wing HQs describing the nature of any engagements with the enemy together with relevant detail about enemy aircraft and any unusual activity. Some of these reports subsequently featured in detail in the RFC and RAF Communiqués also known as the "comic cuts" after a popular childrens magazine - no doubt with a touch of sarcasm in relation to the rather one-sidedly positive account of events. Occasional requests were made to HQ for permission to drop messages over enemy lines requesting news of missing crews. Monthly reports were submitted on personnel matters dealing with manning levels and recommendations for promotion. Casualty reports recording missing aircrew or seriously damaged aircraft were submitted as they occurred giving details of who and what was missing or damaged. Many of these records for 62 Squadron survive.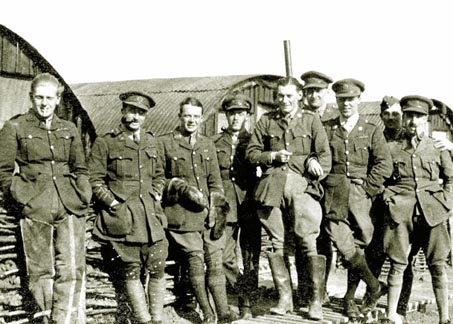 No 62 Sqn CO & aircrew March 1918, L to R:

Capt. Gibbons, Maj. Smith, Lt. C D Wells MC (KIA 16 May), ?Francis, Lt. Hay (KIA 24 Mar), Lt. Savage, Capt. James (KIA 24 Mar), Lt. Robinson & Capt. Claye (POW 19 May)
Photos from Major F W Smith's collection, © airwar1.org.uk