The Bristol Fighter
Designed by Captain Frank S Barnwell OBE AFC of the Bristol Aeroplane Co
"... no machine to equal it as a fighting machine"
Captain Geoffrey Hughes MC, AFC Flt Cdr 62 Sqn 1918
_________________________________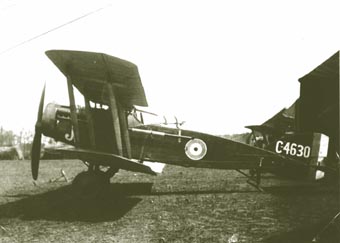 Capt G F Hughes MC's Bristol F2b (C4630) at Planques
Captain Hughes' approbation for the Bristol Fighter was in reference to the Bristol F2B with a Falcon III 275 hp engine, which he had flown with No 62 Squadron. The Bristol Fighter had however made a poor start on the Western Front with No 48 Squadron. The original production aircraft, the F2A with the Falcon I 190 hp engine, was not as powerful and initial fighting tactics failed. Standard armament was a forward firing Vickers gun and a rear Lewis gun (sometimes a twin Lewis).
On 5 April 1917 No 48 Sqn carried out their first offensive reconnaissance with a Flight of six F2A's led by Captain Leefe Robinson VC. They were engaged over Douai by Manfred Von Richthofen's Jasta 11 with five Albatros DIII's. Adopting two-seater defensive tactics to give their rear gunners good firing opportunities the F2A formation proved too vulnerable and four were shot down (including Robinson). On 11 April three further aircraft were lost in action with Albatros DIII's. Further losses occurred on 16 April, this time without enemy action, when five 48 Sqn aircraft ran out of fuel over enemy lines, four aircraft being destroyed by their crews to avoid their capture. Not surprisingly Von Richthofen's early assessment was that "the new British aeroplane was not to be feared".
By the end of April new tactics were being tried favouring engaging the enemy with the front gun. This immediately improved the situation and as F2B's arrived at the front with more powerful engines, the aircraft developed a well deserved reputation as a fighting machine.
The CO of 48 Sqn, Major Bettington, writing in mid May 1917 was full of praise for the Bristol Fighter "she is a topping two-seater ... faster than the Hun two-seater but cannot touch the Albatros Scout for speed. Where she does score tremendously is in her power to dive ... Many Huns who have dived on the tail of one, missed and gone on diving, have been dived after and overtaken, and destroyed." He went on to explain "They are dived plumb vertically for thousands of feet until the noise is like that of a million sabres cleaving in the air." He estimated that the speed in the dive might be as much as 230 mph plus.
Writing just after the war Captain Geoffrey Hughes MC, AFC an experienced Bristol Fighter pilot, who saw action from February to May 1918 with No 62 Sqn, made the following remarks: "there is no machine to equal it as a fighting machine. In the hands of a really good and dashing pilot the Bristol even without a back gun is a match for all except the very finest pilot on a single seater." Captain Hughes could speak with authority having had Manfred Von Richthofen on his tail on 13 March 1918. He went on to say: "Its finest quality is its dive to which there seems no limit. Its powers of endurance are quite remarkable - I used the same machine and engine from the time the squadron mobilised till I came on Home Establishment [Nov 1917 to May 1918 - it was eventually brought down and captured on 19 May after Hughes had returned to HE]." Captain Hughes was credited with 11 victories including Lothar Von Richthofen whom, together with his observer Captain Claye, he shot down on 13 March 1918.
Captain William Harvey MC, DFC & bar, a Flight Commander with No 22 Sqn (26 Victories) writing a squadron history after the war reflected that the Bristol "was a classic aeroplane, in looks, in performance for its period, and of a curiously perfect tactical design at a time when the future fighting requirements of a fighting aircraft were not fully understood." He comments in particular that "the setting of the fuselage between the wings and its knife-edge taper at the tail ensured the minimum of blind spots ... The back to back seating of pilot and rear gunner .. made possible instant change from offence to defence.." and that its natural element was "twelve to twenty thousand feet where its true qualities became apparent". Harvey recalls that a flight of five Bristols with 22 Sqn in July 1918 flew in formation to 20,350 feet with a full war load still climbing, but had to end the climb due to cold and lack of oxygen. Harvey quotes estimates of the Bristol's diving speed with full engine on at 234 to 245 mph. [Note:The RAF Museum's reconstructed Bristol Fighter is displayed in the markings of Captain Harvey's aircraft E2446.]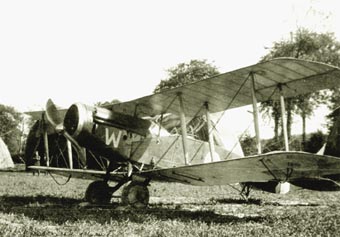 No 62 Sqn Bristol F2B flown by Captain G E Gibbons MC DFC
F2B Aircraft statistics
Wingspan 39', length 25', height 9' 9''.
Engine: Rolls-Royce Falcom III
Take off weight with full load approx 2,800 lbs.
Maximum level speed approx 120 mph
Rate of climb 21 minutes to 15,000 ft
Endurance 3 hours
By July 1918 seventeen squadrons had been equipped with Bristol Fighters, in France Nos 11, 48 and 62 Squadrons were assigned primarily to fighter duties, Nos 20, 22 and 88 to fighter-reconnaissance, Nos 9 and 12 to Corps reconnaissance (according to Harvey only 22 and 62 Sqns were solely fighter units). In UK Nos 33, 36, 39, 75, 140 and 141 were assigned to home defence. In Italy Nos 34 and 139 were employed as fighter-reconnaissance squadrons, and in Palestine, No 111 Squadron's aircraft had passed to No 67 Squadron (No 1 AFC) in a fighter role.
The highest scoring ace on Bristols was Canadian Lt Col Andrew McKeever MC & bar, DFC, DSO of No 11 Sqn with 31 victories between June and November 1917 all but two against Albatros DV's. The second highest scoring pilot was Capt. Samuel Thompson MC, DFC of 22 Sqn with 30 victories before being killed in action on 27 September 1918. Other aces included Canadian Capt. Atkey of 22 Sqn (29), Capt. Gurdon of 22 Sqn (28), Capt. Latimer of 20 Sqn (28), Capt. Middleton of 48 & 22 Sqns (27), Capt. Harvey of 22 Sqn (26), Capt. Staton of 62 Sqn (26) and Canadian Capt. Thomson 20 Sqn (26).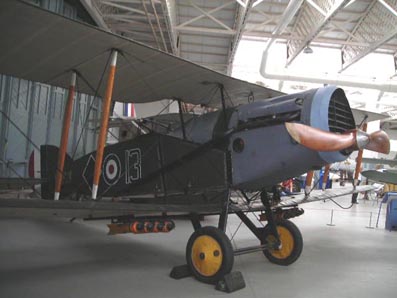 Bristol F2B displayed at IWM Duxford

Sources:
C H Barnes, Bristol Aircraft since 1910
F K Mason, The British Fighter since 1912
Capt. G F Hughes letter to Maj. F W Smith CO 62 Sqn 14.2.1919
W F J Harvey, Pi' in the Sky
Photos © airwar1.org.uk