No 62 Squadron RAF, August-December 1918
The Squadron moved to Croisette, near St. Pol, on the 7th August, in preparation for the attack on the Arras front (the Amiens offensive). From this time, the Squadron commenced escorting bombing formations to objectives far beyond the lines, the aircraft escorted being DH4s and DH9s of the IX Brigade, usually 27, 49 or 107 Squadrons. Offensive patrols, however, still took place frequently. The bombing objectives were initially the Somme bridges, then reverted gradually from the third day to railway infrastructure. Escorts were stand off in nature with the single seat scout squadrons providing close escort. On 9th August two bombing missions were conducted, the second of these being elaborately organised; 62 Squadron provided an initial line patrol, the bombers from 27 & 49 Sqns (30 aircraft) had a close escort by 73 & 32 Sqns and top cover provided by line patrols of I Brigade (19, 22, 40 & 64 Sqns) the formations totalling 50 fighters in escort and 74 in top cover. All Squadrons were flying with all available aircraft. On 10 August the Squadron formed an escort of 40 fighters with 32 Sqn for 12 bombers of 27 & 49 Sqns on a mission against Péronne railway station. The formation was engaged by Fokkers and 56 Sqn joined in the action. Similar actions continued over the next few days. There were significant actions by the Squadron on 12th August with 3 EA claimed destroyed and 2 EA driven down OOC by Capt. W E Staton and Lt. L E Mitchell (2) Capt. L Campbell and Lt. W Hodgkinson (1), Lt. W K Swayze and Lt. W E Hall (2 OOC). Lt. A B Cort and Lt. J N Mitchell, were killed in this action.
There was further action on 22 August (Battle of Bapaume) when 15 aircraft of the Squadron provided escort to 27 Sqn on a raid on Cambrai railway yards. The patrol engaged a formation of ten enemy scouts (Fokker DVIIs and Pfalz). Capt. E T Morrow and Lt. L M Thompson shot down one EA but were then hit themselves. Capt. Morrow was injured and managed to fly home while Lt. Thompson controlled a fire and subsequently lifted his pilot clear of the burning aircraft. Capt. G E Gibbons and Lt. T Elliott brought down two other EA, Lt. R Schallaire and Lt. R Lowe brought down another and Capt. Staton and Lt. Mitchell another. Lt.s Blowes and Hind claimed 2 EA OOC, Lt.s Allday and Miller claimed 1 EA OOC. A total recorded of 5 EA destroyed and 3 OOC.
On 25 August the Squadron provided patrols over target airfields at Etreux and Mont d'Origny while 27, 49, 98, and 107 Sqns made up the bombing force with 32 and 43 Sqns in escort. This operation was against German bomber units in retaliation for a German night raid that destroyed 48 Sqn's Bristol fighters on the ground at Bertangles. On 29 August the Squadron was again escorting raids against railway stations at Cambrai and Valenciennes, the latter by 107 Sqn. A long range engagement took place with a Fokker formation. The official history notes that eight DH9's on this raid turned back with engine trouble. Lt.s J Appleby and J M Holling were injured.
Action intensified in September with claims of 11 EA destroyed, 8 EA OOC and 1 EA captured, however the Squadron suffered 7 KIA/KWF, 9 POW and 5 WIA. It was in this period that the improved Fokker DVII was appearing at the front and capable of outperforming British aircraft.
On 4 September as part of the 1st and 3rd Army offensive against the Drocourt-Queant Switch, IX Brigade day bomber squadrons attacked Valenciennes, Douai and Cambrai stations escorted by 32 and 62 Sqns; nine enemy aircraft were claimed destroyed with seven British losses among them Lt.s W K Swayze and W E Hall, who were taken prisoner. 62 Sqn claims included two Fokker D.VIIs destroyed & OOC N of Cambrai by Capt. Gibbons and Lt. Elliott, and a further Fokker D.VII driven down N of Cambrai by Capt. Staton and Lt. Mitchell, and possibly one by Lt.s Schallaire and Lowe.
On 24 September, again on escort duties, a patrol encountered a formation of 30 enemy scouts (Fokker DVIIs) over Cambrai. Lt. P S Manley and Sgt G F Hines engaged a number of EA shooting down two (RAF Com 26), Capt. Staton also claimed 1 EA OOC but was himself wounded (and returned to HE). Lt. N N Coope and Lt. H S Mantle were shot down and taken prisoner.
With the break down of the enemy's line South of Arras, the Squadron moved to Belle Vue, (Arras-Doullens Road), on 26th September. From Belle Vue escorts to Bombers were carried out, and occasionally an offensive patrol. Initially escorting 27 Sqn during the Battle of the Hindenburg Line 28-29th September.
On 9 October while providing a close escort for a bombing raid by 27 and 49 Sqns on Aulnoye Railway Junction, the squadron met several formations of EA; Capt. L Campbell and 2/Lt. W Hodgkinson claimed 1 Fokker DVII destroyed but were then themselves shot down and killed in action probably with Jasta Boelke (Lt.n P Baumer). Lt. J E Sitch and Lt. D S Fox were seen going down OOC SE of Cambrai and were taken prisoner. 2/Lt. W R Baskerville and 2/Lt. J McCallum and Lt. A W Blowes and 2/Lt. H S Hind each claimed an EA OOC. Capt. Richardson commented on this mission after the war as an example of a successful Bristol fighter escort against odds of 3 to 1 with the formation meeting three enemy formations and having to fight their way through and back 30 miles over the lines without the bombers being affected.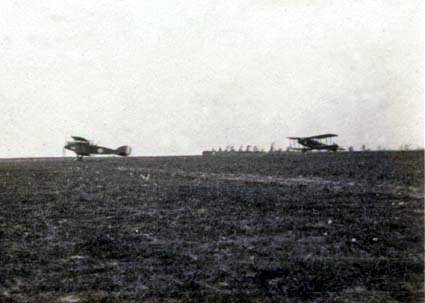 Immediately after the capture of Cambrai, the Squadron proceeded further on, to Marquion, 29th October 1918, (on Arras-Cambrai Road). Unsuitable weather prevented a great deal of work being carried out there, but on several occasions D.H's of other squadrons were escorted to distant objectives, including Mons, Charleroi, and La Louviere. 4 November was the last day of major aerial fighting. The squadron suffered its final losses of the war that day. Two crews, Lt. F C D Scott and Lt. C Rigby and Lt. F Sumsion and Capt. W G Walford were shot down near Mons and killed in an action probably with Jasta 26.
The Squadron was stationed at Marquion when the Armistice was signed, and was due to escort a raid on Charleroi on the 11th November. This being cancelled by the signing of the Armistice. [See cancelled 9th Wing RAF operational order for 11th November.]
The IX Brigade [IX Brigade Orbat Nov 1918], to which the Squadron belonged, had been selected as one of the Brigades for the Occupation Army, the Squadron moved to Aulnoye Junction on the 18th November, from there to Namur on the 14th December, and from there to Nivelles on the 19th December. Major Smith relinquished command of the squadron at the end of February 1919 returning to civilian life after four and a half years war service. In May 1919 the Squadron moved to Spich near Cologne.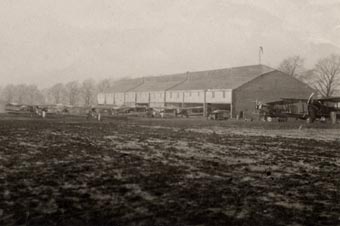 Nivelles airfield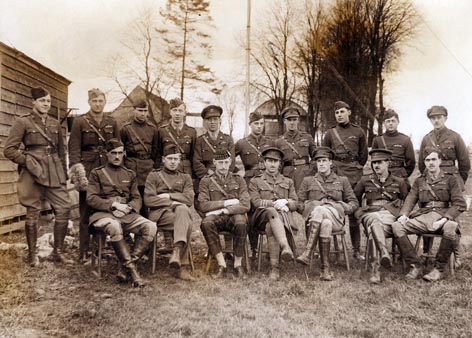 No 62 Squadron RFC Pilots with CO, 28 January 1918, before proceeding to France
Standing from left : Capt. Staton MC DFC & Bar, 2nd Lt. Savage MC, 3rd Lt. Swayze, 4th Lt. Hampton, 5th Lt. James, 6th Lt. Allen, 7th Lt. Morrow, 8th Lt. N Wells, 9th ?Lt Francis, far right ?Lt. Miller.
Seated from left Lt. Arnison MC, 2nd Capt. Gibbons MC, DFC, 3rd Capt. Purdom MC, 4th & centre CO Major Smith, 5th Capt. Kennedy MC, 6th Lt. Clutterbuck, 7th Lt. Robinson.
Photos from Major F W Smith's collection © www.airwar1.org.uk.