Flying training 1915
This section records then Captain Smith's introduction to the Royal Flying Corps (RFC), reporting to the Flying School, Netheravon, then moving to establish the School at Shoreham (end of January) from where he obtained his RAC pilot's certificate [No. 1070]. He went on to complete his training at the Central Flying School (CFS) Upavon.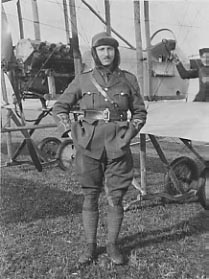 Capt Smith at Shoreham
Maurice Farman Long Horn biplane in the background used for basic training
Jan 6th Wed:
Receive instructions at 9.30 p.m. to report myself at RFC Shoreham next day.
Jan 7th Thurs:
Proceed to Shoreham. Aerodrome about 1 1/2 miles from the station arrive there in the dark and walk across partly flooded land for nearly 1/2 mile to reach sheds- At sheds find that Aerodrome is not yet established and so no representative of RFC in the place. Mr Spence manager of Cedric Lee Co., aeroplane makers, gives me all information and I accompany him back to Brighton and put up at Royal Albion Hotel.
Jan 8th Friday:
Wire to Col Bullock asking instructions. At 7.30 pm receive wire telling me to proceed to Farnborough without delay. During morning met Kempsey-Bourne on prom in uniform of Sergeant of Kitchener's Army. He has just been gazetted Lieutenant & is waiting to be posted.
Flying School Netheravon
Jan 9th Sat:
Arrive Farnboro' 11.30 a.m. report at Headquarters RFC. Meet Capt (Alexander) Ross-Hume in command of Flying School, Netheravon, and accompany him there by car, arriving about 6.30 p.m.
Jan 10th Sun:
Weather fine and little wind, am taken for a joy ride by Lt. Lewis. We rise to 1600 ft and remain in the air for about twenty minutes. There are nine pupils for instruction including Lord Hugh Cecil and Viscount Exmouth. Also Lt. Ryder who has joined from my Reserve Brigade he took his ticket a few days before I arrived. Discover that he was at [school] with my brothers. Also Lt. Holder of City of B'ham 1st Batt, Lt Breakhall, of Cornwall Light Infantry, Lt.Horsfall, Lt.Leathers of Bedford Infantry, Capt. Babington, Lt.Swart R.F.A.

[2nd Lt. Basil Henry Ryder, Capt. Philip Babington, Lt. Ralph Tolerton Leather (later with 2 Sqn, Bedford reference is unsubstantiated), Lt. Jacob Guy Swart (later Flt. Cdr. with 22 Sqn and CO of 10 RS and 24 Sqn)]

Viscount Exmouth
| | |
| --- | --- |
| Ryder, Holder, Breakhall, Swart | Greaves, Swart and Horsfall |
Jan 11th Mon:
Very little flying, weather too bad. Instructing pilots at school are Lieuts Lewis, (Charles) Gordon Bell & Barker.
Jan 15th Fri:
Weather during the week has been too bad to instruct beginners. Asked for and obtained leave to go home for weekend.
Jan 17th Sun:
Motor to Cheltenham and catch 3.15 train, arrive Pewsey 8.30. Go from Pewsey to Netheravon by tender. The driver was an ex-London taxi driver and had no respect for corners! On one occasion car stopped in the mud, in a lane lately flooded. Pleased to reach Netheravon safely.
Jan 18th Mon:
Weather very fine, gusty near ground. I was taken up for instruction by Lt Lewis. We were in the air for about 15 mins and reached 2,000 ft. Held duplicate controls.
Setting up RFC Shoreham
Jan 20th Wed:
Came to Shoreham by road in charge of mechanical transport. The big end of a 3 ton lorry gave out seven miles before reaching Winchester, it was necessary to tow it the remainder of the journey. Travelled at about 12-14 m.p.h. towing with one lorry. No arrangements to receive us at Shoreham, billeted men and stayed night at Crown Hotel.
Jan 21st Thurs:
Aeroplanes arrived by air in the rain, and remainder of school. We are quartered in bungalows, "Parlora" a large bungalow on front used as Mess. Am in Allenhurst myself.
Jan 22,23 & 24:
Spent in getting place straight and making road with cinders from sheds to high road. We had a heavy fall of snow on 22nd.
Jan 25th Mon:
Flew with Lt.Lewis, held controls and practiced landings.
Jan 26th Tues:
Accompanied Lt.Lewis to Lewis, as observer, to look for a landing ground on the Downs. 'We did not find one. After returning we went to Littlehampton along the coast: on our way back engine stopped while at 3,500 ft. over Goring, landed in large field. Started again but when 800 ft up and over sea, engine again stopped - landed with difficulty in small field. Discovered petrol tank empty. Capt. Abercromby flew over with mechanic: I returned with Abercromby.
Jan 28th Thurs:
Took pilots seat and practiced landings.
Jan 29th Fri:
Flew alone for first time, for 25 mins.
Jan 30th Sat:
Continued to practice landings & right hand turns for 55 mins
Jan 31st Sun:
Flew for 15 mins in high wind about 25 mph on ground.
Feb 1st Mon:
Flew for and obtained R.A.C. certificate [No.1070] - time 28 mins. In afternoon flew across country to Horsham-Midhurst-Chichester-Littlehampton-Shoreham about 80-85 miles.
Feb 4th Thurs:
Left Shoreham to join C.F.S. Stayed night in London. Motorcycled from Shoreham.
[Editors note: After approx. 2 hours under instruction he flew solo. This was followed by 2.5 hours solo flying and a half hour flying examination to obtain his Royal Aeronautical Club certificate]
Central Flying School (CFS) Upavon [Responsible for training Naval and Army pilots]
Feb 5th Fri:
Motorcycled to Upavon & reported at Central Flying School. Am attached to 'C' Flight, B.E. machines. Obtain leave and go home until Sunday night.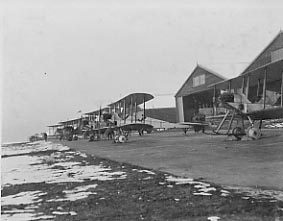 CFS Upavon, 'C' Flight BE2's
Feb 8th Mon:
Lt. Cdr. Clarke in command of 'C' Flight took me for joy ride on machine No 1751 B.E.2c & showed me limits of aerodrome.
[Editors note: Capt. Smith's RFC Pilots Log Book starts at this point.]
Feb 9th Tues:
First instructional flight on B.E. machine under Lt Perry.
Feb 12th Fri:
Instructional flight. Went for weekend leave & returned Sunday night.
Feb 15th Mon:
Instructional flight. Detailed for 'workshops'.
Feb 20th Sat:
First flight alone on B.E.2A (447). Leave for weekend and go to London.
[Editors note: First solo flight at Upavon after 3 hours instruction (Lt. (P C V) Perry as instructor); log records 30 mins under instruction and 30 mins solo that day.]
Feb 22nd Mon:
75 mins flying in aerodrome.(454).
Feb 23rd Tues:
45 mins flying in aerodrome.(454).
Feb 25th Thurs:
1 hr 50 mins flying (454 & 347). On duty as observer & cannot leave for weekend. Lt. (Dawson Calybut) Downing R.N. killed on B.E.2b 676.
Mar 2nd Tues:
1 hr flying in aerodrome (454).
Mar 10th Wed:
Flew to Ludgershall on No 454 and landed on marked ground. Total time in air at Upavon to date 8 hrs 48 mins.
History note: The battle of Neuve Chapelle commenced on 10 March 1915 with a British and Indian assault on the German line South of Ypres.
Mar 15th Mon:
Landed on marked ground between Ludgershall and Perham Down.
[Editors note: Flying also on 16, 17, 23, 24, 26 March making circuits of the aerodrome.]
Mar 29th Mon:
Flying at 5.45 a.m. reached 3,500 ft.(230)
Mar 30th Tues:
Examined by Cdr (Charles Dempster) Breese and (was) passed out. (230)
Mar 31st Wed:
Flew to Upavon (Andover), reached 7,000 ft, also to Marlborough. Received instructions to proceed to Farnborough next day & report at Administrative Wing. Understand shall be required to fly B.E.2c to France at once. Total time in air at Upavon 18 hrs 41 mins, all on B.E. machines.
Fellow trainees mentioned in photo album:
2nd Lt. Max K Cooper-King, 2nd Lt. Jack Oliver Cooper [KIA 21 July 1916], 2nd Lt. (Humphrey Minton) Goode, Sub. Lt. Wilfred Henry Dunn, 2nd Lt. M H Monckton, Lt. Ernest Hodgson (interned Holland June 1915)