Lt. Harry James Bennett, RAF 1891-1918
Pilot, killed in action 24 September 1918 with No 49 Squadron, IX Brigade RAF
This is the story of Harry Bennett, in 1914 a recent immigrant to Canada, who joined up for military service early in the war and later transfered to the RFC first as an observer and then as a pilot. His training was typical of the latter part of the war following General Trenchard's demands for more extensive preparation of aircrew. Once deployed on active service as a pilot he was to survive less than a month.

Photo © Ian Bennett
Harry Bennett was born in 1891 in Cambridge, England. He emigrated to Canada in 1911 with his brother, Arthur. Both brothers subsequently enlisted in the Canadian Infantry.
Harry joined the 21st Eastern Ontario Battalion in Kingston, Ontario on 6 Nov 1914 and arrived with them in England on 15 May 1915. Harry had set up a successful automobile agency and repair business in Pembroke, Ontario in 1913 after working at the McLaughlin Buick Auto Factory, Oshawa, Ontario. This background led to him being transferred to the Canadian Army Service Corps (CASC) with whom he went to France in September 1915. He served with the CASC in the field until on 2 December 1916 when he was attached tempoprarily to No 10 Sqn RFC where he had his first flight with a Lt. E C Winckley in a BE2d.
A month later, on 14 January 1917 Harry was formally transferred from the Canadian Army and commissioned into the Royal Flying Corps, commencing training as an Observer at the Wireless and Observers School, Brooklands.
In March 1917 He returned to France as an Observer joining No 2 Squadron operating AW FK8's at Hesdigneul near Bethune. During his time with the Squadron it supported the reconnaissance effort for the Battle of Ypres. Lt. Seton Montgomerie's diary (No 2 Sqn) starts shortly after Harry Bennett's departure and gives a picture of life on the Squadron. Harry left the Squadron in September having been selected for flying training.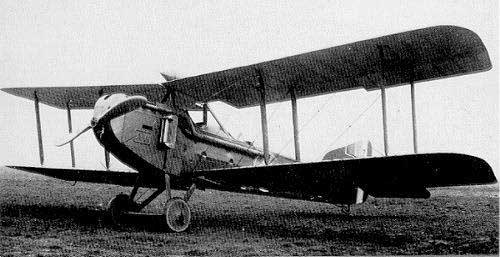 Armstrong Whitworth FK8 "big ack" (photo public domain)
On 21 September he commenced flying training with 12 Training Squadron at Thetford on Maurice Farman Shorthorn's. His principal instructor was Lt. Ferguson. After 4 hours flying with dual control under instruction he flew solo for the first time on 29 September. He appears to have completed the RAeC pilots test on 10 October though his log book makes no mention of it other than describing figures of eight and landings. He left No 12 TS after completing 4 hrs 15 mins solo flying and 4 hrs 30 mins dual control flying.
On 19 October 1917 he transferred for further training to No 99 Squadron at Lakedown, flying BE2e's. His instructors there were Capt. Gilmour, Lt. Minter, Lt. Cosgrieve, Capt. Miller and Lt. Horwood. Training focused on landings with flying was mainly at 500 to 800 ft. On 26 November he crashed and wrote off BE2e B7731 presumably suffering some injury as his next flight was two weeks later. By the end of December his training had moved on to higher flying with some formation and cross country work.
In January 1918 he moved on to flying the Armstrong Whitworth (with which he had flown as an Observer in No 2 Sqn). On 7 January he crashed AW B5802 undershooting the airfield as he returned from a cross country formation flight. There was another two week pause before his next flight. At the end of January he practiced photography on a DH6 (A 9687) at 2000ft (noting that the "Camera jammed") and then had some bombing practice on the Ak W's. At the beginning of February he was introduced to the DH4 and conducted five flights before going on extended (3 months) leave to Canada on 8 February. At this point he had nearly 38 hours flying experience as a pilot.
Before his next return to UK No 99 Sqn had joined the Independent Force in France (3 May 1918) operating the new DH9.
Returning to UK in May 1918 Harry was posted to No 109 Squadron now part of the RAF at Lakedown. 109 Sqn was equipped with DH4's and he was given initial instruction by Lt. Latter. In his second week, at the end of May, he practiced photography and firing. On 6 June he crashed on take off on DH4 B5545 when his engine cut out. After a week off he was flying again and passed his photography test. On 17 June he had his first flight on a DH9 (C1270). On 4 July he went to the School of Aerial Fighting, at Turnberry, for a week's course and practiced "camera" fighting (using the camera gun) and "Rafts" firing (live firing against raft targets). On 15 July he moved to the School of Navigation and Bomb-dropping at Stone Henge and practiced live bomb dropping and formation flying, completing this training on 24 July.
At the end of July he was back at 109 Sqn continuing formation training and this continued until 24 August when the squadron was disbanded. [No 109 Sqn was disbanded as part of a reduction of service squadrons to provide more aircraft and personnel for the training system (the new Training Depot Squadrons).]
On 2 September Harry was posted to France and joined No 49 Squadron based at Beauvois flying DH9s. (On leaving UK he had 139 hours total flying time of which 125 hrs were solo flying).
He arrived in France as the German Army was being steadily pushed back toward the Hindenburg Line. 2 September was the day of the attack on the Drocourt-Queant Line and by the middle of the month the Allied armies were pressing on the Hindenburg Line. In the air the RAF was meeting large formations of enemy aircraft. No 49 Sqn, commanded Major Benning, was a day bomber squadron in the 9th Wing, IX Brigade RAF. The Brigade was deployed to reinforce the Cambrai-St Quentin front where the main ground assault was to be made and was engaged in regular bombing raids on railway junctions.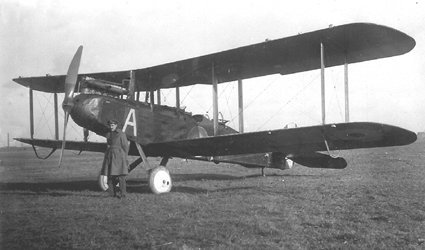 DH9 of 103 Sqn.
Photo from Frederick Wood collection © David Lovell
Harry's first flight was on 3 September and on the following days he practiced formation flying with Lt. Bailey as his observer. His first operational flight took place on 6 September with 2nd Lt. Robert Armstrong who was to be his regular observer.
On 6 September 49 Sqn dropped 22 112 lb bombs on St Quentin station, N of the Junction and N and W of the station and the town. Harry's log book records "Bombing raid St Quentin. 11000ft. Observer Lt. Armstrong. 7 huns. Escort #32". No 32 Sqn providing the escort to 49 Sqn was attacked by 6 EA, engaging these from above at 14,000 ft, Lt.s Rogers and Lawson each claimed a Fokker DVII destroyed over Holnon (West of St Quentin). 2nd Lt. Bowen (USAS) was brought down and captured but died of wounds.
Poor weather inhibited flying from 7 to 13 September and there was little enemy activity.
On 13 September 49 Sqn dropped 20 112lb bombs on Somain, bursts were observed on the railway Junction and between the railway and a dump S of Somain. 32 Sqn (SE5a's) provided an escort for the raid. Harry's log book records "Bomb raid Somain. 12,000ft. Escort #32 Visibility bad. Saw 1 Gotha".
On 16 September an early morning raid by 49 Sqn dropped 22 112lb bombs on Orchies obtaining bursts around the railway Junction. The log book records: "Bombed Orchies. 11000ft Lost 1 of escort #62. Intense AA Huns". No 62 Sqn was providing escort for the bombers of 49 Sqn and the plane shot down was that of Lt. R H Stone and 2nd Lt. N F Adams, both of whom were taken prisoner. 62 Sqn crews 2nd Lt. Moss and 2nd Lt. Lowe claimed a Fokker D.VII destroyed and Capt. Campbell and 2nd Lt. Egan and Lt. Manley and Sgt Hines both claimed Fokker D.VII's OOC.
On 24 September 49 Sqn attempted a bombing raid on Aulnoye Junction but turned back because of a large formation of EA south of Cambrai. Harry Bennett and 2nd Lt. Armstrong his observer were shot down and taken prisoner, Harry sadly dying of his wounds; Lt. Armstrong survived. The enemy attackers included Jasta 2 one of whom is believed to have shot them down. 62 Sqn were providing an escort patrol and lost Lt. Coope and Lt. Mantle who were shot down and taken prisoner.
Later in the day when 49 Sqn returned to bomb Aulnoye Junction, Capt. Asbury and 2nd Lt. Gillman were KIA and Lt. Connover and 2nd Lt. Pretty taken POW. Another two pilots and an observer from 49 Sqn were wounded (Lt. Moore USAS, 2nd Lt. Eteson and 2nd Lt. Belcher). 62 Sqn again providing an escort encountered a formation of 30 EA (Fokker DVIIs) over Cambrai. Lt. Manley and Sgt Hines engaged a number of EA shooting down two (RAF Com 26), Capt. Staton also claimed 1 EA OOC but was himself wounded. A 32 Sqn escort for a returning bombing raid tangled with about 30 EA which had attacked the returning bombers. Eight Fokker DVIIs were claimed OOC, Capt. Callender claiming two.
Harry Bennett is buried at Cabaret Rouge CWGC cemetery, France.
Sources:
Harry Bennett's log book
Joining papers for 49 Sqn
Canadian Army enlistment papers
Henshaw, Trevor, The Sky Their Battlefield
National Archives 9th Brigade RAF records
Acknowledgement:
I am grateful to Ian Bennett for providing much of the source material about his uncle and allowing me to share it.